By Mkhuseli Madiba
October is an important month for teachers as World Teacher's Day is celebrated on 5 October. This makes It a time to reflect on and appreciate the dedication and impact of educators on young minds.
In the heart of the community, educators play a vital role in moulding the future, guiding learners, and contributing immensely to society. Recognising this, the Kagisano programme, in partnership with Harry Gwala Secondary School, hosted an inspiring event on Saturday, 14th  October – a Teacher Wellness and Healing Space, designed specifically for teachers and teacher assistants.
The Teacher Wellness and Healing Space was guided by clear objectives, all centred around the well-being, appreciation, empowerment of educators and to understand conflict management in their work. From providing practical tools for wellness to promoting non-violence and social cohesion in schools, the programme aimed to create a ripple effect of positivity and support.
Teachers, the unsung heroes of our communities, bear the weight of educating the youth, and with it, the challenges, and pressures of the profession. The Teacher Wellness and Healing Space provided a sanctuary for these educators to come together, share their experiences, and learn practical tools for compassion, self-care, and wellness.
The programme was aimed to address both internal and external conflicts that teachers face, offering support including self-care, wellness, and counselling specialists. The day served as a reminder that the well-being of educators is paramount, and celebrating their contributions is essential.
This event was a fitting tribute, creating a space for teachers to reflect, learn, and be celebrated. Participants shared their experiences, discussed challenges, and opened up about the state of teaching.
These conversations are crucial as they shed light on the realities of the profession and pave the way for support and change. Many of the teachers stated that "the teaching profession was a well-respected profession in the olden days, now it is not taken serious, we are neglected". There was also a question; "who advocated for teachers?".
This event also included an Interpersonal Style of Conflict Management exercise. This exercise delved into how teachers respond to conflict, especially within the classroom setting, providing valuable insights and strategies for effective conflict resolution.
Additionally, Social Workers from the Department of Social Development (DSD) and the Safeline Child Abuse Treatment and Prevention Center contributed their expertise. They guided the educators on how to cultivate wellness in their lives, explained various types of stress and trauma, and offered strategies for coping and resilience. Social Workers emphasised that "teachers need to take care of themselves first and encouraged them look after their mental wellbeing.
Through discussions, teachers were able to acknowledge that in their style of handling conflict there are gaps.  It was emphasised to them, that are no good or bad conflict modes; like anything, each style has its own advantage and disadvantage. Furthermore, it was explained to them that each style has its own time and place depending on the situation.
The outcomes of this event are far-reaching. Teachers left feeling appreciated, motivated, and safer in their school environment. They gained confidence in educating youth on conflict resolution and peace promotion, creating a more harmonious learning space. One teacher said "umntu akayeki ukufunda nesebudaleni, namhlanje ndifunde kakhulu (one does not stop learning, you learn until you old, today I learnt quite a lot".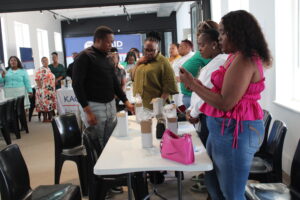 The school governing body's support was evident, showcasing a united front in recognizing the societal benefits of such programmes. Teachers were not just participants; they were capacitated and sensitized, ready to bring about behavioural and attitude changes within themselves and their classrooms. One teacher said, "lento nisifundise yona, iyadingeka and sizayisebenzisa (what you taught us here is needed and we will use it)"
The Teacher Wellness and Healing Space at Harry Gwala Secondary School event showed the power of community support, and acknowledgment. It served as a reminder that our educators are invaluable, and their well-being directly influences the future of our learners and society at large. By creating a space for reflection, learning, and celebration, the Kagisano programme and Harry Gwala Secondary School have laid down a marker, showing that the well-being of educators is paramount.
Mkhuseli Madiba is the Afesis Programme Officer for the Kagisano programme in the Western Cape.