Kagisano in collaboration with ACTION Support Centre held a social cohesion and promotion
of mental health sport event at Auckland Park, Johannesburg on 24 August 2023. The event
was centred around the theme "cohesion, unity, diversity and empowering minds through
sport". It brought together traditional and religious leaders, individuals who have excelled
in various disciplines, along with young peace builders who are actively engaged in fostering
peace in areas such as Alexandra, Mamelodi, Makause, Orange Farm, Diepsloot, and
Marikana.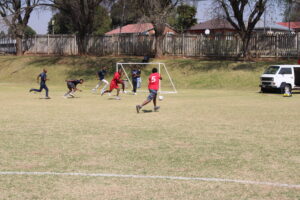 "Today was about promoting social cohesion, peace building, mitigating political violence,
celebrating the richness of diversity and inclusivity, enhancing awareness about mental
health, and leverage the power of sports to drive positive transformation" said Chipo
Marunda, the Project Manager for ACTION Support Centre, an organisation that is part of
the Kagisano Programme.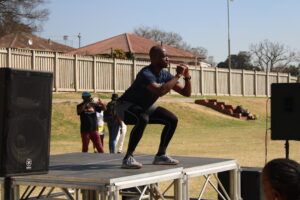 The participants took part in various sporting activities including soccer, netball, volleyball,
basketball, and indigenous games that Africans identify with. Participants embraced the
spirit of competition and solidarity, embodying the event's ethos of unity in diversity. It was
a unique opportunity not only to advance social cohesion and nation-building activities, but
also to equip the peace builders with tools and capacity to address conflict through their
unique perspectives and approaches, while also embracing their mental wellbeing.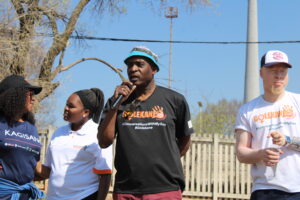 "The event came at the right time when we really needed therapy and integration of
communities. Given the complex challenges we face in our communities, the key learning
from the games was that no matter how many people are on a team, its power comes from
collaborative efforts aimed at developing strategies that help solve the challenges we
encounter", noted Deco Qwabe, a Peace Building Ambassador in Diepsloot.
By blending the unifying influence of sports with educational and cultural elements, the
event aimed to initiate positive societal transformations, nurture empathy, and construct a
more robust and resilient community. Through collaborative activities, the participants felt
esteemed, comprehended, and empowered to prioritize their mental well-being, drive
social cohesion, and unity – all while rejoicing in the splendour of diversity.
"The event was one of many platforms that should happen more often. I believe, the only
thing that can bring stability and tolerance is by getting to know each other better while
reminding ourselves the values of 'Ubuntu'. These are necessary to help us find solutions to
some of our community challenges. Social cohesion is one of the biggest things that we
need right now to work together, and share ideas on how to build a new society for
everyone to thrive and prosper, highlighted Morokolo Rudolf Shikwe, a Peace Building
Ambassador in Diepsloot.