By Bertha Chiguvare
Violence continues to afflict South African communities, resulting in harm, fear, and division. The consequences extend beyond just physical and emotional well-being; they also affect economic and social stability. Conventional methods to tackling violence often fall short, underscoring the importance of collective action. The key catalyst for transformation resides within our youth population.
Young people are not merely future leaders; they are the leaders of today as they possess a unique ability to see the world differently. Actively involving young people in the process of finding solutions is a game-changer in tackling violence and addressing critical issues. By tapping into the youth's energy, innovative thinking, creativity, and determination, we can forge safer, more vibrant communities that benefit all.
This is evidenced by Kagisano programme's work in Elim and Musina, Limpopo. In the past, Elim was plagued by xenophobic collective violence. However, the efforts of young people have united locals and immigrants, allowing them to tackle crime together and engage relevant authorities, without taking law into their own hands. Similar initiatives, like the Men's Forum in Musina, led by young people, addresses the key triggers of violence, such as financial management, mental health, GBV, alcohol, and substance abuse, by creating spaces for open dialogue and mutual empowerment.
Kagisano's initiatives span various communities, including Elim, with six tribal authorities, and Musina. In these areas Kagisano has 80 Peacebuilders who are at the forefront of this transformative work within their communities, on which more than half are young people. The Kagisano programmes empowered its members and young people to take a lead, identify issues, organize workshops, and collaborate with the community. This inclusive approach ensures that young people are actively involved in building safer environments for everyone.
On 12-14 September 2023, Kagisano hosted a workshop on Conflict Transformation in Musina. The workshop was attended by 45 Kagisano Peacebuilders and the Action Support Centre played a crucial role in making it a valuable learning experience by exploring mapping of social dynamics, understanding key issues, and proposing solutions for factors affecting communities.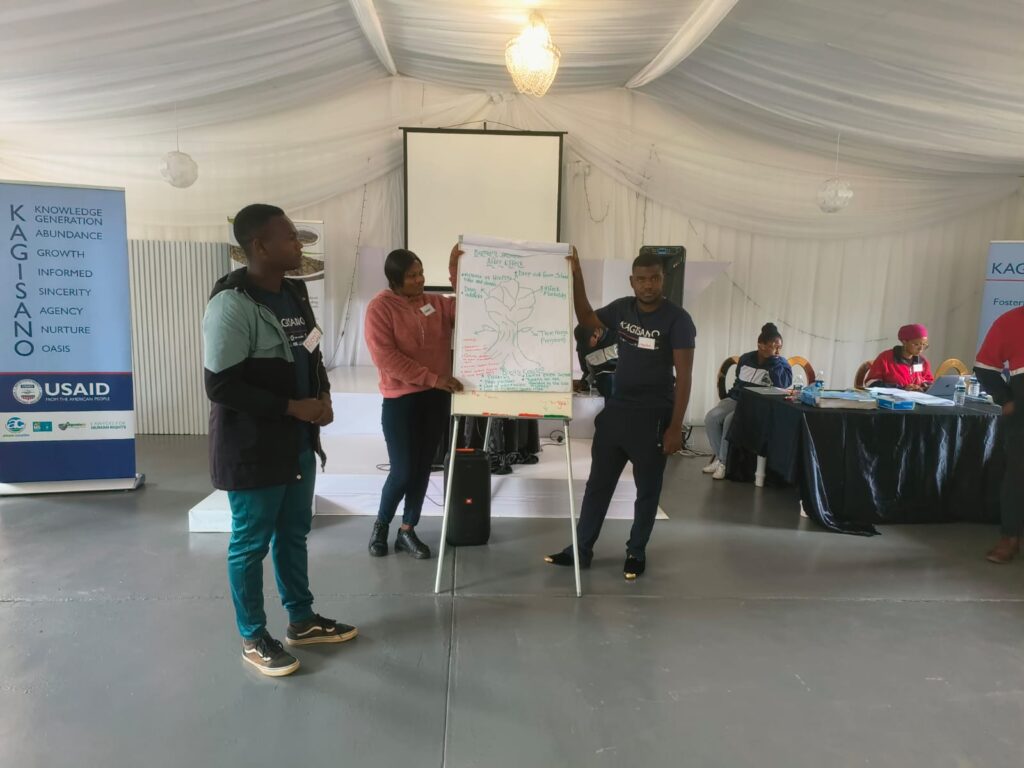 Workshops like these form part of Kagisano's main mandate in promoting social cohesion and preventing collective violence as well as ongoing work to empower young people with conflict management skills, cultural sensitivity, and address key triggers of violence, such as high crime rates. They also help young people in understanding the root causes of violence and develop practical solutions to tackle root causes. Through these workshops, Kagisano has witnessed transformation in young people's confidence and their ability to manage violence in their communities and they are working towards taking peacebuilding to the next level. By conducting these capacity building workshops and cultural sensitivity events, Kagisano's aim is to ensure that young people are equipped with the skills and opportunities they need to break free from the cycle of violence.
We have a task to reduce violence before us, by using a holistic approach with youth involved, we can create safer, more vibrant communities where violence is replaced with unity, love, and opportunity. Kagisano's work serves as a shining example of what can be achieved when young people are empowered to lead the way in preventing violence and building a better future for all.
Bertha Chiguvare is Kagisano Programme Coordinator at Lawyers for Human Rights in Limpopo